Hailing from Moloto, North-East of Pretoria,
Ben Tjibe
is a bit of a "Da Vinci Child"..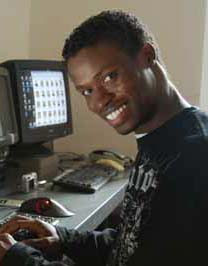 He has built his own computer from second-hand parts and taught himself how to use it. He is also a self-taught musician, illustrator, designer and graphic artist. In the film industry, he has been employed as a Storyboard Artist for the feature films
"How to Steal Two Million"
and
"The Short Cut"
and has also worked on a promotional comic book for the movie
"Max & Mona."
Ben worked with Christa as Casting Assistant / Technician while setting up M-Net's soap
"The Wild"
and later progressed to the position of Assistant Editor. He is now based at our Studio, but is keen to gain a variety of experience across the industry.
See Ben's artwork at
Deviant Art
or on
My Space
. (Links should open in a separate Tab)