Christa Schamberger-Young

+27 11 440 3477

Independent Casting Director
Emmy Award Nominee 2009

Cape Town & Johannesburg

(The Casting Connection cc)

South Africa
---
WORKSHOPS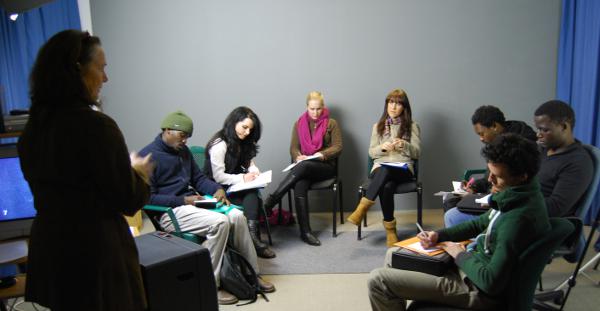 A group of working actors gathers for notes during a recent workshop in our Johannesburg studio. Most of the time is spent in front of the camera, or reviewing audition exercises projected onto a large screen. Our workshops will be extended to Cape Town as soon as we find a suitable venue.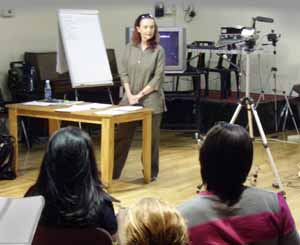 We gave several workshops at The Actors' Centre, Johannesburg, every year. Although they served as a useful Introduction to screen acting techniques, the classes were usually large and therefore not all students had the opportunity to get on-camera experience and individual review.
THE ACTOR's CENTRE has since closed down.


When time permits I offer various Audition Workshops at my studio. These are practical on-camera sessions combined with talks on presentation, preparation, CVs, showreels and much more. Courses take place over two weekday night sessions of three hours each. Groups are limited to six students.

Please send an e-mail with details of your experience and an indication of when you would be able to attend a workshop. When I am able to put together a group of students of similar experience, I will notify you. After discussion with me, I will send you a suitable Brief and Sides to prepare for a workshop.

Established actors about to leave long running Series or Soapies have formed groups and asked me to give them a "refresher course" to help recover their Audition Nerve! I am more than happy to do this.
THE PROFESSIONAL AUDITION
Four Practical Workshops for Performers
#1
THE ESSENTIALS
(2 SESSIONS)
Interpreting a brief : what to look for, what to discuss with your agent; specific information that you should have in hand before arriving at the audition.
Preparation: what to research, what to wear, what to bring; questions to ask the Casting Director; questions he/she may ask you; Resumes, Headsheets, Showreels; assessing and adapting to the audition venue; the I.D. for camera; the "hidden interview"; scene study; orientation of the audition scene/s; basic camera awareness in an audition situation; eyelines; review and self-assessment.
#2
ADDITIONAL ELEMENTS
(2 - 3 sessions)
The "sell"; cold reading techniques; exploiting an action-orientated scene in limited space; responding to specifically directed inflection, gesture, action; handling props; exploiting minimal dialogue; non-dialogue reactions; working with a "reader" or another actor; pitching in different styles: drama, soaps, T.V. Commercials, corporates, training films; working with international expectations: e.g. variation of acting style, working with translated scripts; showcasing your range within the audition piece; the "Call Back"; review and self-assessment.
#3
SPECIFIC SCENE STUDY
(2 - 3 sessions)
a) Technical & practical aspects e.g. definitions of various technical terms which are consistantly used by a Director , DOP and various HOD's on set; type of shot; basic awareness of the effect of different lenses; framing; continuity; understanding the cuts; interaction with key technicians.
b) Performance content : specific scene study; placing the scene relative to the rest of the movie; exploiting all the clues in the script; emotional continuity; motivation and 'size' of movement/gesture; interaction with other actors in and out of shot.
c) Review & self-assessment.
#4
THE INTERVIEW
(2 sessions)
On and off-camera interviews - what can you actually prepare?
NOTES
1)
Times : Each session is approximately 3 hours in the evening from 17h30 to 20h30
or on Saturday afternoons from 14h00 - 17h00
2)
Each participant will receive an Audition Brief as soon as a Workshop is fully booked and confirmed.
Please give me some idea of your training and experience as we try to put artists together who are on a similar level.
3)
Fees : Under review - please contact Christa for details.