Which explains the tardiness in updating our front page. The Writers' strike in the US and international economic wobblies probably contributed to
THREE
films going "On Hold" within a few days of each other! A film collapsing entirely is one thing, but a film going "On Hold" complicates our lives enormously, especially if new projects could provide work for the Actors who now find themselves in limbo.
Mid - March did bring some good news for one of the suspended projects though - no, can't say which yet - plus at least one new project from the same Producer!
ROOIBOS WITH MILK
DO Productions; Completed shooting in the Cape (Clanwilliam) with the popular German actress
Hannelore Hoger
. Substantial roles cast out of Johannesburg included
Renate Stuurman
playing Mali,
Kagiso Mthetwa
as her son Biko and
Mary Twala
as Saartjie. You may remember writer Stephanie Sycholt's "Malunde" (2000)
WHITE LIGHT:
Have completed their shoot in Uganda, where Director
Jean van de Velde
finally found his "Abu", which really did make sense in terms of the Swahili language requirements. In a neat twist of fate, the boy's real father (a well-known Ugandan actor) plays his father in the film. The
WHITE LIGHT
unit is now in Port St Johns on our Eastern Cape coast for the South African leg of the shoot.
BONES GOES TO DURBS:
Completed Principal Photography
. Leon Schuster
of course reprising his sangoma role "Bones",
Leeanda Reddy
as the leading lady Rashmi/Vaneshri and newcomer
Tongayi Chirisa
as Hekule. The baddies :
Meren Reddy
as Kerrit and
Kaseran Pillay
as the wily Sanjeev.
SURVIVING EVIL: (
March 24 – April 26) Low budget horror feature film shooting in Durban. UK Director
Terrence Daw
is very happy with his two South African leads :
Colin Moss
and
Louise Barnes
. It's going to be a tough shoot deep in the muddy mangrove swamps along the North Coast of KZN (Kwa-Zulu Natal).
---
WHITE LION:
They're
still
shooting this epic project on a private game ranch in the heart of the Magaliesberg! Michael Swann has moved into the Director's chair and is enthusiastic about approaching what looks like the last section of the film. I had the enormous privilege of meeting the lions last week - including our star white lion, who is every bit as beautiful in real life as he looks on the website! (
http://www.whitelionthemovie.com
)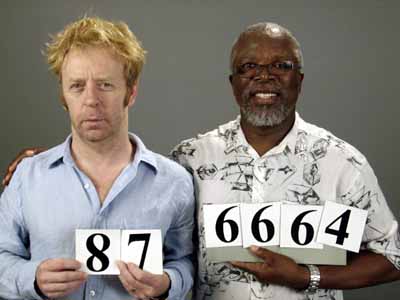 END GAME:
Behind the scenes during the lead up to Nelson Mandela's release from prison. Director Pete Travis ("Vantage Point"). Political game playing for very high stakes. Based on the book "The Fall of Apartheid" by Robert Harvey.
William Hurt
playing Willie Esterhuyse and
Chiwetel Ejiofor
taking on Thabo Mbeki. Shooting based in Cape Town and partly in the UK
Award-wining actor John Kani larks about with Director Pete Travis during a meeting in our studio.
---
I'VE SAVED THE BEST FOR LAST!
Bet you didn't think I'd ever do an Afrikaans movie!
HOND SE DINGES, HOND SE DAG
(Ermmm... well...
"The Dog's Wotsit, The Dog's Day" ?
) Director:
Johan Heyns
.
Buster Reynolds
is DOP.
Johan Heyns
is largely responsible for this script which had me laughing out loud. It's robust and raunchy, skirts dangerously close to slapstick but underpins the whole rollicking adventure with acutely observed characterisation. Johan's small-town South Africans are an absolute treat, especially the cameo, one-scene people who are just perfect. A hugely fabulous challenge for actors with a real funny bone.
Ivan Botha
plays Dolf, an Afrikaans Rocker jilted by his lead singer.
Frank Opperman
plays Rommel, the baddie. We do have a good short list for most of the rest of the cast but I can't announce that just yet...